I have never been to a huge concert to see a big star performing before. This time, I had the chance to go see Rihanna ANTI world tour in Amsterdam. She was performing at the huge football stadium. I was so excited and did not know what to expect. I and my friend arrived a little later so we missed the Weekend's performance. The Weekend and Big Sean were the warming up performers. After Big Sean, we were waiting for Rihanna. We kept looking at the stage and suddenly people started screaming. She arrived from a different entrance. She looked so tiny from where I was sitting. Her voice was beautiful and she put on a great show.
As I was hoping for, Rihanna also sang some of her older songs and not only from the new album. I loved the moment when it was getting darker and she asked everybody to turn on their flashlights and then the whole stadium lit up and looked like a sky full of shining stars. And then she started singing: "Shine bright like a diamond."
At some moment during the show, I felt so small. She is only a few years older than me and there I was listening to her among the mass while she was performing for the whole mass.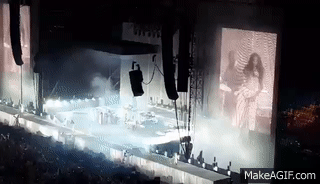 Thank you, Rihanna, for a great concert!